Albuquerque Indian School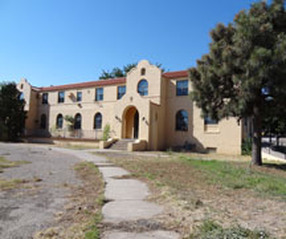 Indian School's last building standing.
After the "Indian Campaigns" ended and Native Americans were confined to reservations, a philosophy of "Kill the Indian to Save the Man" developed in American education, with the goal of integrating American Indian children into the dominant Anglo society. Several off-reservation boarding schools opened. Children were forcibly removed from home and family and sent to live at these institutions, where they learned domestic and skilled trades. The Presbyterian Church started the Albuquerque Indian School in rented quarters in 1881, and in 1886, businessmen contributed acreage at what is today 12th Street and Indian School Road in Albuquerque. The Albuquerque Indian School (AIS) began with values similar to the other schools. The new campus expanded until it comprised forty-eight buildings, eventually including a hospital where kids who contracted the ubiquitous scourge, tuberculosis and other diseases recuperated or sometimes died.

Here, children lived, learned, were deprived of their indigenous cultures, and often yearned for home. Through a complex process of parental involvement, Pueblo culture, and legal challenges, this particular institution changed over time to become a school where young people could gain an identity, learn English while practicing their own arts, be athletes, play in a renowned band, work in Albuquerque homes, and graduate with the same fond memories as children hold for any school.

AIS, was an integral part of the greater community. Its fine auditorium hosted school and general events. John Philip Sousa performed for the thrilled small city in 1925. Athletic teams competed with other local schools, and the Indian School Band always marched in Albuquerque's frequent, exuberant parades. AIS was part of our town.
---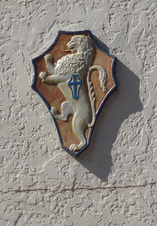 Crest on the Indian School building.
Over time, public and alternative education became more available, and the value of unique cultures was finally recognized. AIS declined and eventually closed in the Eighties. Unfortunately, unlike Indian Schools which carefully preserved their heritage, the campus deteriorated. Homeless people and vandals damaged the buildings, which eventually burned and/or were bulldozed. Luckily, one building survived and still stands today. The many alumni who remember their alma mater and want to feel that "sense of place" can return to campus and at least see this building, which is the only monument to mark their years and maturation. This building more than matters.


By Mo Palmer, published author, local historian, archivist
---