​Albuquerque's First Air Ambulance Service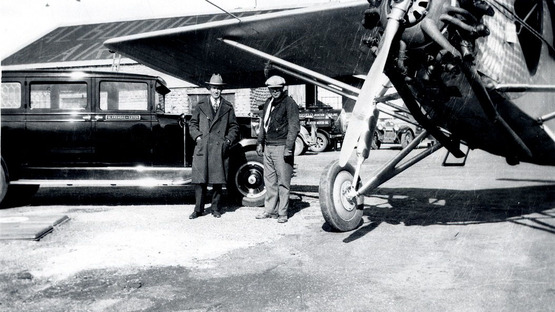 Bert Exter and Barney Holmes with the Ryan monoplane. Photo provided by Susie Turner
Albuquerque's first flying ambulance was put into service on November 6, 1929, to save a woman's life. The ambulance service was started by the Blakemore - Exter Mortuary, owned by Bert Blakemore and Albert J. Exter. Yes, that's right. A funeral service company was in the ambulance service business, which was not uncommon for the times. The patient was 69-year old Mrs. Mary Craft, who was suffering from a paralytle disease.

"Doctor's said that if her life was to be saved she must be transported to a lower altitude. Mrs. Craft's son lived in Stratford, Texas. That climate, physicians declared, would be suitable for the woman's health. The problem that next arose was a means of transportation. The Rock Island is the only railroad running through the Texas town. If she were taken there that way, it would be necessary to use an ambulance to carry Mrs. Craft to Vaugh, a 120-mile journey, and follow this with a long train ride to the southern town. This idea was not pleasing to doctors."

To the rescue was the Blakemore - Exter company. They made arrangements with the Aircraft Holding, Inc. to have Bill Cutter fly Mrs. Craft in a Ryan monoplane, cutting her trip from 17 hours to 2 hours and 45 minutes. Accompanying her were her doctor and daughter. Also on the journey was Bert Blakemore. The flight took off about 8 a.m., and shortly thereafter, Mrs. Craft fell asleep. She did not wake up until after Bill Cutter made a "perfect landing." "Mr. Blakemore said that Cutter was so careful in landing the plane that he and Miss Mary Craft, the woman's daughter, did not know the ship was running on the ground until it slackened speed." Mrs. Craft's doctor reported that she suffered no ill effects from the flight.

Information obtained from Albuquerque Journal newspaper articles dated November 6 and 7, 1929.

---