Sunshine Building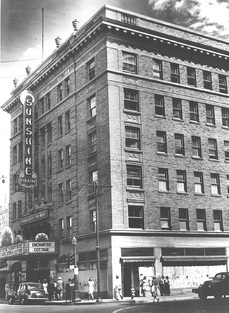 The Sunshine Theatre, located at 120 Central Avenue SW, opened with much fanfare on May 1, 1924. Its first movie was "Scaramouche" starring Ramon Navarro. This showing included a special orchestra to accompany the film.

This movie palace, designed by Henry C. Trost, was built by the Italian immigrant, Joseph Barnett, who came to Albuquerque in 1883 from New York City. It was built on the former site of the White Elephant Saloon which closed in 1920 due to Prohibition. The White Elephant was also owned by Joseph Barnett. The young Barnett went into real estate and became a prominent entertainment entrepreneur, once owning all the city's theaters.

The theater continued to screen films until the 1980's, undergoing a major interior remodeling in the 1960s to allow installation of a large screen. It was remodeled again in the 1990s to facilitate presentations of live music performances.

In recognition of its historic value, the Sunshine Building was placed on the National Register of Historic Places and the New Mexico State Register in 1985. It also became an Albuquerque City Landmark.

Note: In the 2010s, the Sunshine Building was used as the fictional headquarters for the witness protection program in the TV series "In Plain Sight." The TV show filmed the exterior of this location, as the Albuquerque office of the US Marshal's Witness Protection Service.
---